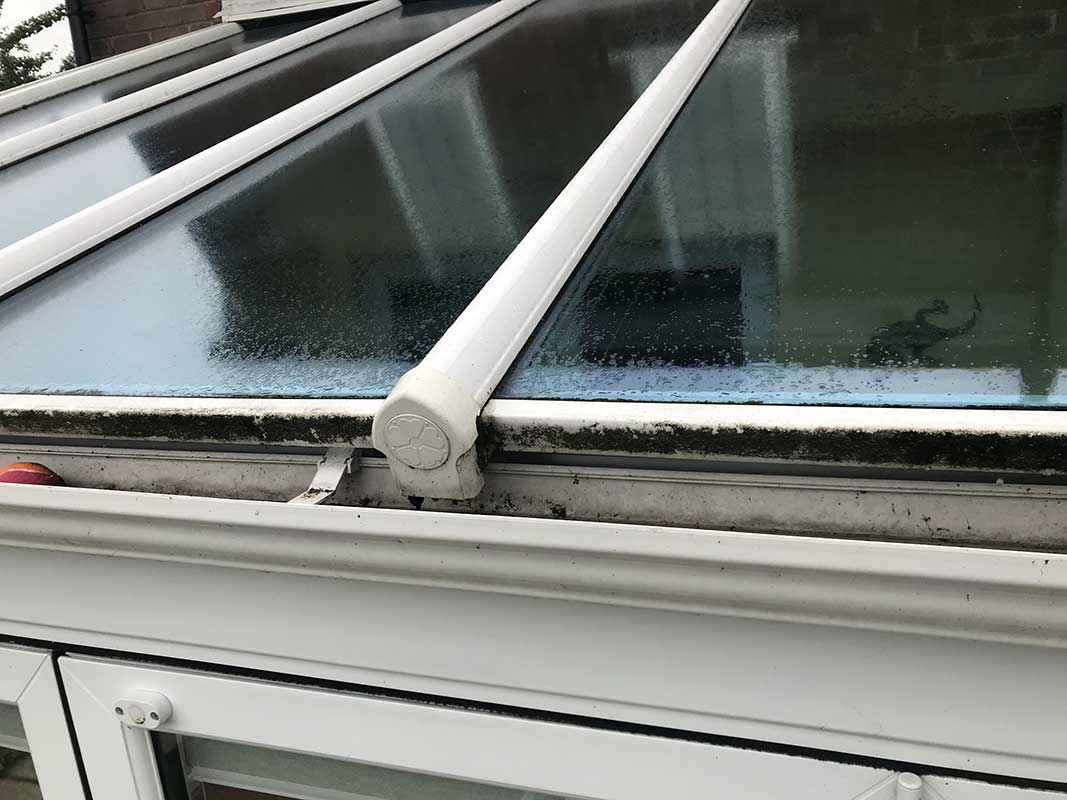 Conservatory cleaning is as important as other parts of your house, it requires proper maintenance. If it's not cleaned, your house will look dull and old. Doing a conservatory cleaning job by yourself is not easy and also it is not recommended because the procedure needs safety equipment and experience. Giving this task to a professional company is the right way to get it entirely neat and clean.
Our experts do this job with great care and keep your glass safe from damage and scratches. We are a specialist and notable conservatory cleaning company using environmentally friendly cleaning products to restore your conservatory. We do our best to get its previous beauty back and you will be amazed by the results.
Our company offers exterior and interior conservatory cleaning. We will do a thorough cleaning process and restore your conservatory. It will include the cleaning of Conservatory Windows, UPVC Surfaces and Roof Panels. You will get 100% satisfaction with our conservatory cleaning services because we do exceptional work and revitalise the dullest parts. Give our team a chance to restore your conservatory and you will surely recommend our service to others!
Our Techniques
The most advanced cleaning techniques and tools are being used by our cleaning teams. As with your windows, cleaning is done with purified water via a water-fed pole system along side in house eco friendly chemicals, which allows for a fantastic finish. The first phase of the clean is a full wash with just the purified water. In the second stage we apply the chemical on you conservatory and rub with our brush to agitate the grime and dirt particles. When then rinse off any chemicals still lingering on the glass and UPVC. The final stage is repeating the first with a full clean of the conservatory with only the purified water.
Why Choose Us?
Fantastic Finish: With a mixture of our purified water and brilliant eco friendly chemicals you receive an. Amazing clean. Making your conservatory look brand new.
Text Alerts: Every evening before the clean we text you so you know we're coming. Letting you know we are coming enables you to get the gate unlocked and move anything blocking our ability to clean your conservatory.
ECO Friendly Cleaning: The only chemicals we use are extremely eco friendly so it does NO harm to the environment.
Insured Service: We offer Public Insurance Liability and Employers Liability, in addition our team has many years of experience
Tailored Pricing: We don't have standard pricing to save you money. We tailor our prices to the size of the conservatory you have. Therefore you don't pay over the odds for your conservatory clean.
Step 1. Make an Enquiry
You can make an enquiry via text or talk to one of our friendly customer assistants. They will talk you through the process of the clean, and how to make payment. We will ask for your name, address, and mobile phone number.
Step 2. Get your Quote
Once we have your information we will come round and quote in person. We'll tell you what will happen during the clean and how it is preformed. The member of the team can also go through the payment options with yourself.
Step 3. The Night Before
The evening before your clean you will receive a text from us confirming that we'll be round to clean the following day. After that, the van will get stock with the chemicals and equipment needed whilst getting filled up with purified water. Normal tap water gets processed through our reverse osmosis system which is comprised of multiple filters.
Step 4. Arriving at your Property
The van arrives with the with all the supplies and the tank of purified water as well as water fed poles. The cleaner will prepare all the equipment needed for your clean. Our equipment is extremely effective and safe, we use water-fed poles that allow us to clean your conservatory without climbing on the glass which eliminates any chance of damages.
Step 5. The Clean
The cleaner will extend the pole up to the top of your conservatory first and work down from there. The Deionised water is pumped through the special brush attachment to the top of the extended pole and sprayed over the dirty windows and UPVC. Then they'll apply the chemicals on all surfaces. When applied we'll scrub the glass with the brush to agitate the dirt, marks and stubborn stains. Then purified water is sprayed on the glass to wash away the dirt. The process also helps create a protective coating on the window surface, which keeps your conservatory clean for longer.
Step 6. Optional Extras
We offer a few optional extras. Why not add a Fascia/Soffits clean or a Gutter clear out. You could also get your solar panels cleaned if you have them installed.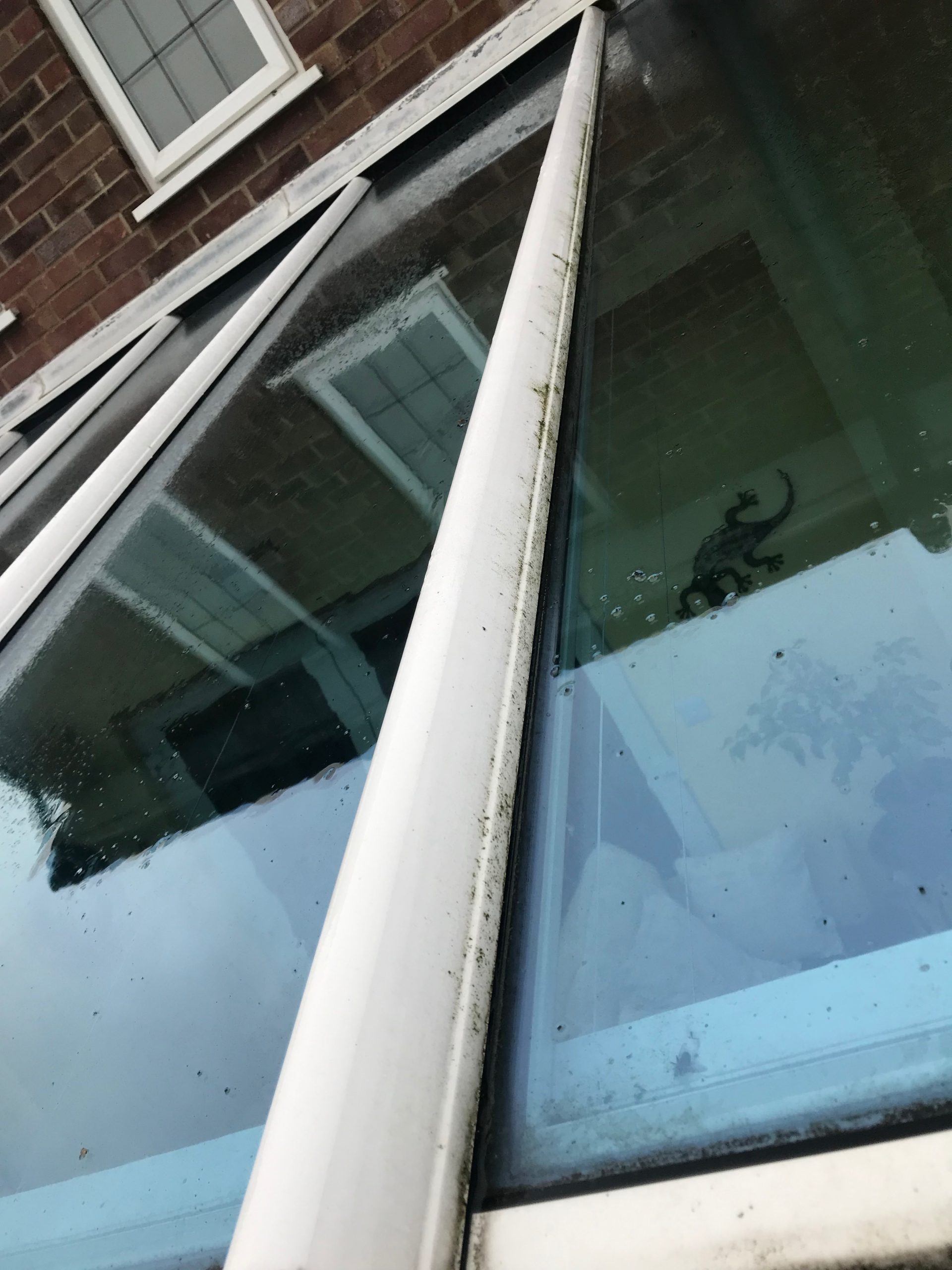 Don't Know Where To Start?